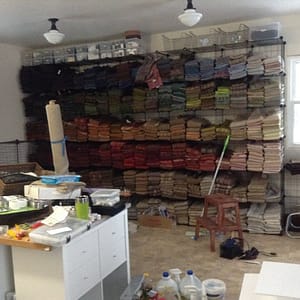 Well, almost. It will still be rough around the edges but I want to have a dry run before classes start.
Please join me for a day of rug hooking or just stop by for a few minutes. I'd love to see you!
Friday, January 23, 2015
Starts at 9am and will go until 3pm. We will break for lunch at 11:30 until 12:30 or 1pm. I'm not sure how long it will take for lunch. We will drive the 7 miles to Pemberville and eat at our usual place, Janelle's Diner, so if you are joining us during the lunch hour you will find us there: 135 West Front Street, Pemberville, OH 43450
(419) 287-7043.
My new address is 6988 Linwood Rd., Pemberville, OH. I am a few miles east of the intersection of route 6 and I-75.
The phone number is the same as before in case you need help along the way, 419-287-3884.
Directions: Google 6988 Linwood Rd., Pemberville, OH. Click on the map, click on Directions, enter your address or use your GPS.
Please call me if you have any questions or would like verbal directions from your location. I hope you can make it.
Reminder: classes start February 13, 2015.