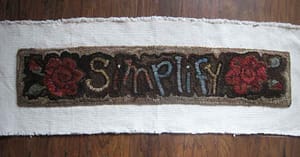 After 2 days at the Sauder Village winter hook-in and a few more hours hooking in North Carolina, I have the bulk of my new stair riser pattern complete!
It is not available as a pattern yet. Give me a few days to get home and to get it online.
The letters have been hooked in 8.5 once, then the background was hooked in. Next I will rip the letters out and rehook them. This method does two things – it helps me to see what color(s) I want to use and it makes the letters clearer. Not sure what color I will use, still deciding.