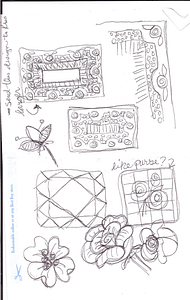 I spent some free time in the Doctor's waiting room.  On a scrap of paper I played around with some ideas.  The upper right is my current idea for the border around the rug.  I liked how the roses barge into the circle border.  The two rugs to the left may become rug hooking patterns.
When I originally started the room sized rug, I hooked the stair risers as tests for the border.  I had planned to use repeats of Queen Anne Rose. This was such a fundamental element of how I started the design, that it was hard to let go. 
The rose I am using in the border is different from the roses in the center of the rug.  This is the rose from Queen Anne Rose stair riser. So I am using some of the design, just now how I originally intended.
I spread the rug out on the living room floor and placed paper cut outs where I wanted the roses for the border.  Below are photos showing how I drew up the individual designs using a fat marker.  After I cut them out, it is easy to move them around until I have an arrangement I like.  I am not going to get too worried about having them exactly spaced.  I like the slightly "off" look better.  When things are perfect, they are stiff and boring.
One example is the line around the circle border.  I originally hooked three lines perfectly in the ditch.  There was something wrong, it was too perfect.  I ripped out and rehooked the center line allowing myself to meander three holes on each side of the center line, trying not to make a pattern .  Then I hooked a row tight against each side.  Wonderfully planned randomness!