What keeps me going is hearing from you. Katie sent me these pictures of the rug she is working on.  Here's what she had to say:
I've been meaning to email you for a while to tell you that I am hooking Antique Floral Runner designed by Emma Lou Lais.  I was not crazy about the border and decided to make it a little larger and do a hit or miss pattern on the inner border and just make the outer border a solid color . . . until I happened upon your website sometime last fall and saw your big rug.  Immediately I realized that the circles in your border would be much better.  I've attached some photos — with and without flash (not sure what would show up better on your monitor) so you could see where your inspiration has led me.  Also, I am hooking this rug with several other women as a challenge through Wool Snippets and we are documenting our different color plans on a blog Hookers on the run.

Here's what my border looks like.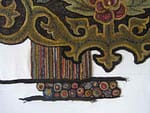 This is the actual pattern that you can purchase on Emma Lou Lais' website.  Here's what Katie did with it.
I loved seeing the wiggly line.  I originally wanted to use something like that but it was too much with the scrolls on my rug.  Notice how Katie made the border larger than originally designed.  For this reason, I leave at least 8-12″ of excess backing on the patterns I draw for myself.  On larger rugs, I leave even more space.  You never know where the rug will take you by the time you get out to the border.  The biggest shame is not having enough backing to hook your best ideas.
I love how Katie treated the large flower in the upper right.  There's another one on the other end also.  The pink background varies in value.  I'm guessing she used a very strong one color spot dye, a left-over swatch or just a bundle of pinks. The yellow spirals are hooked in different values also.
The small orange berries seen above have at least 8 different values that I can see. Since they are not all hooked with the same wool, they are much more interesting. This is the secret to never worrying about running out of wool. Use many, many different wools to hook a motif. If you are already using eight and you run out of one, adding another will never be noticed. This is the theory I am using in my room-sized rug. I am using what I have on hand at the time I hook it. I have already run out of some wool and have not hesitated to add in some new ones as they come in.
To read more about Katie's rug, visit her blog:
Hookers on the Run
If you click on the "older post" link at the bottom of the page you can see how the other ladies in her group hooked this pattern.