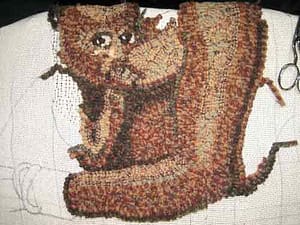 I now have the lower arm filled in. I think the tummy will work, but I will continue to watch it. I fell in love the with bracelet idea when I first drew up this pattern, now it doesn't work for me. I see this woman as a slave during the early years of our country, not as the proud tribal woman I first envisioned. I think that is the fun of hooking faces, especially imaginary ones. As you hook, a story develops and the personality of the person you are hooking emerges.
Hooking a sacrificial border
Now I need to think ahead. I can see where the main focus of the rug is going. How am I going to fill in the rest of it? In this photo I laid out my favorite red (favorite until I run out) and some greens. I like a simple multi-row border on pieces like this. Keeping the border simple will keep the focus on the central characters. Rather than leaving a border off completely, I like to add a few rows for the future. Later, many decades from now, when someone must restore or repair this rug, they will have several rows that can be easily removed and will not affect the main hooking of the rug. Remember that the edges of our rugs are the first to wear out. By hooking a "sacrificial" border, I am distancing the last loops of my design from the edge.
Adding interest to a background by rug hooking a pattern
I think I will hook the green spot dyes above in circles. Imagine looking a forest through wet glass or teary eyes. You only see circles of green. It will be interesting to see if I can hook up what is in my imagination.
---
Want to learn how to hook faces?
I am creating an online course that goes into a lot more detail. Watch me hook every stage of a face. This will be open for enrollment in Spring 2022.