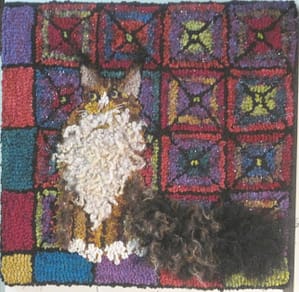 Meryl has been one of my students at the Cape May Rug Camp, Rugs by the Sea, for the last 6 years.  She has an unusual point of view when it comes to her rug hooking.  In this piece, she hooked her new cat, Django, against a geometric background.
The colors look subdued on my monitor, but trust me, this is a bright and lively rug.  The cat's chest and tail have been altered with yarn hooked loosely.  I have met this cat and it is amazing how much the yarns Meryl chose look like the cat's fur!
The size of geometric squares she wanted to use did not perfectly fit the size of the rug.  No problem.  Meryl just added rectangles along the bottom and side to fill up the space.  Hooking them with solid colors instead of stripes as originally planned made them the perfect floor for Django to sit upon.