I had a wonderful time this year at the rug camp in Manistee, MI. I've taught there the last few years and this was the first time I had the experience as a student. My teacher was Tish Murphy who is a master at hooking faces, particularly those small enough for a pin.
These are the 3 treasures that I purchased from Tish: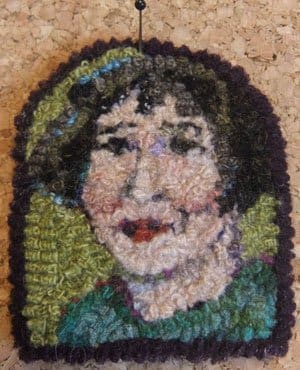 Babooshka Woman (my name not Tish's) is MIA. I think she saw this as her chance and took a walk about. I hope she came home with me but I haven't seen her since the night before we left.

I fell in love with the pin idea because you can get it done in a short time frame and it is very portable. You can read more about Tish's pins in Rug Hooking Magazine issue June/July/August 2009 page 58.
Here's the face pins I hooked during the week. Their faces are a bit misshapen because they are not fully hooked yet.
Here's another face I did during the week.

It is a bit larger and another challenge because it is a softer child's face and not an imaginary person. I started this pattern several years ago at Sauder Village Rug Camp with Abby Vakay. I kept it mostly traditional but I did add some of the glitz and non-wool fibers that Abby was teaching in the dandelion blossoms.
I'll post the finished pins when I get them done.