I'll be away from the rug hooking frame while I clear out some backlogged paperwork to get ready to do the dreaded taxes. It used to take a day or so to get things ready but with the business, it seems to take forever. I have decided to hit it hard and get it done.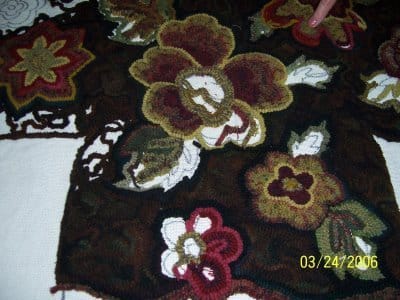 While clearing off my hard drive, I found this photo. It is a bit dark, but it is a perfect example of how I hook all over the project. This helps me to get a feel for how the colors work and if I run into a problem, I just move on. My goal is to complete the background before I complete the motifs.
The above footstool rug hooking pattern is called "Pocketful" and is designed by Katherine Porter. It is available here on this website. This was my first footstool and it needed a companion, so I designed, "Annie's Flower Power" below.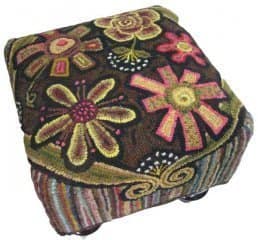 "Annie's Flower Power" footstool was designed to work out some of the design ideas I had for my room-sized rug. For those of you following the blog you can see the resemblance. This pattern is called Annie's Square Flower Power and you can purchase it here.
Make your own rug hooked footstool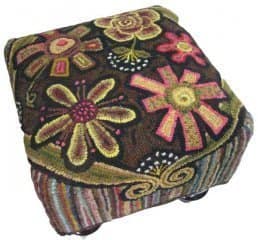 I have several rug hooking footstool patterns available. I am posting complete instructions (videos are still being edited) on how to build your own using simple 2x4s, plywood and foam. There is a complete cutting diagram for the wood and the foam. I also have instructions on how to finish your hooking so you can complete your rug hooked footstool. Here are the list of instructions available so far:
Missing something? Please let me know so I can make these instructions as complete as possible.
Footstools
[wp_eStore_category_products:category_id:6:end]