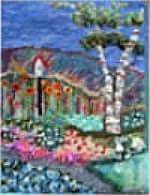 Due to some health issues that make travel difficult, Jane is unable to teach her class this year in Lancaster at the ATHA National. I've been asked to fill in. I have her hooked piece and initial instructions in hand. Now I need to prepare the kits. Rather than guessing, I decided to hook the piece and to post my progress here. Doing it publicly will help to keep me on track.
Yesterday about 1/2 the patterns arrived so I got a closer look at the project. Once someone has hooked the project, it is impossible to see what they started with. I needed to see what the students in the class will see for the first time. Now how can I speed this up?
With a landscape, you usually have to hook the outer border rather early in the project. All the bits inside will butt up to it and you need a straight line to define the edge. This piece is tiny, but if I have the students start hooking the border, that is a lot of wasted class time.
I decided to use my pillow finishing technique to add sashing to the edges.
Since I had the sewing machine out, I decided to use a technique that Kim Nixon was exploring. Sew a wide strip directly to the backing and hook up to it. It creates a dip in the rug similar to those you see on a sculpted carpet. This would be an interesting way to define the path.
The problem I saw once I had it sewn on both sides is that the side closest to you would not be clearly seen. The flowers would raise into the air and obstruct your view of that side of the path. No problem. I just picked at it with my fingers until it began to unravel and then trimmed it up with scissors. Now I can hook the flowers past that edge.