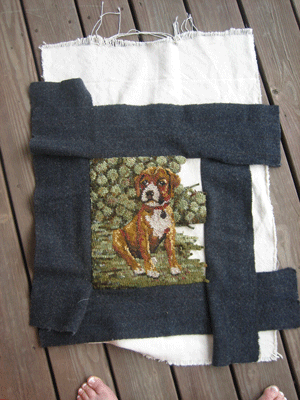 Once again, I am hooking frantically to get something done for the Sauder Village exhibit next week in Archbold, OH.  I wanted to check the background and the hind quarters of the dog.  I hooked some on Thursday but did the rest early this morning and this evening.
I find one of the easiest ways to evaluate my work is to take a photograph.  You will notice things in the photograph that would normally take you hours to notice.  Since I am short on time . . .
For those of you following the blog you may remember the circle/foliage stuff in the background from "Woman with Baby."  I originally came up with the idea for this piece, but never got a chance to get it hooked.
I started this piece in Cape May, New Jersey last year.   I taught the first week of camp and was a student the second week.
When I heard that the theme for Sauder Village this year was Puppy Love, I knew I had to get this piece done.  To see previous posts on this piece, click on "Jackson as Puppy" in the topic list on the right of this page.  It is near the bottom under Work in Progress.