Here is the registration form for the Rugs by the Sea rug camp in Cape May, NJ. The location is magical. It has to be special to get me to drive that far every year. There's two weeks of camp, each week with a different line up of teachers.  Much of the camp is conducted on the wonderful wrap around porch.  Horse carriage tours clomp by from time to time adding to the timelessness of the location.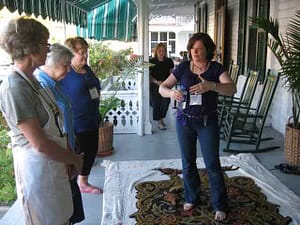 Week 1 September 9 – 14, 2012
Bev Conway
Cindi Gay
Kris Miller
Laura Pierce
Week 2 September 16 – 21, 2012
Bev Conway
Lucille Festa
Judy Quintman
Sharon Townsend
Cape May Rug Camp Brochure 2012 Download and print the registration. All the information you will need to make your decision is included there.
One year I taught the first week and stayed on as a student the second week. You can pack a lot of rug hooking into two weeks. . .