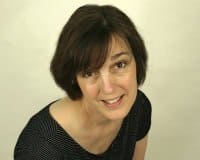 Kim Nixon lost her fight to cancer on February 15, 2011. We became friends several years ago while teaching together. We quickly discovered that our approach to our personal work was similar. We were both trying to find a way to duplicate the effects we could get with paint in rug hooking, especially lost edges. So many rug hookers worry about this motif or that getting lost. We were exploring the ways to lose them on purpose.
One of my fondest memories happened in Dearborn, MI. Kim was teaching at our guild and since I had to travel an hour and 1/2 each way, one of the guild members, Cheryl, opened her home to me. Because Cheryl was working during the week and I was there without a companion, I joined Kim each night for dinner. While comparing our experiences, we discovered that neither of us had experienced a professional pedicure. Time and money had been an issue for both of us while raising our families. It never seemed important. Pam who was a local resident and up for any adventure, not only told us where to go, she joined us. I will never forget that day.
Kim's class in Dearborn, MI was about her wonderful footstools. Several months before the class we were both teaching at Cape May. I purchased my pattern from her and she suggested I hook it so she could use it as an example during class to demo the assembly process. Finishing a footstool is faster than finishing a rug. I enjoyed the process so much, I decided I needed another one.  Two in front of the couch side by side would be perfect.
I designed the pattern for "Annie's Flower Power" as a study piece before I began my room-sized rug. I wanted to see how the hit and miss would look next to the scroll. I highly recommend study pieces before you hook a large project such as a room-sized rug.
A gathering to celebrate Kim's life will be held on March 6, 2011.
Kim_Nixon_Celebration_Invitation
You can read her obituary here.
While we've lost a bright star in the rug hooking community, we can all keep a piece of Kim through our memories, wool and rug hooking. According to her husband, Kim's designs will be offered through House of Price. Those beautiful designs will be with us for a long time.
Update: 2/4/14 The patterns are still unavailable.