Choosing the right wool is all about choosing the right value. Color is important, but value is what makes it work. Look at these wools I pulled off the shelf to hook a pine tree. Will they work? The colors look right, but are the values right?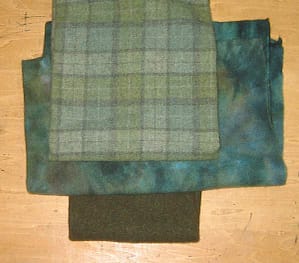 One way to check is with a value finder. As usual, I could not find mine but I don't use it much anyways. They come in many shapes and sizes, sometimes in two colors, red and green. Use the green one for cool colors and the red for warm colors. When in doubt, use them both. With the Easter season approaching, you can use red or green cellophane, the stuff used to wrap Easter baskets. The problem with this material is that it wrinkles easily and the wrinkles make it harder to see the wool. It does not travel very well.
Technology has changed so much in just the last year or so that I no longer need the value finders. The easiest method is to take a photograph and then change the photograph to greyscale. Your camera may have an option for this, but the view finder is quite small and can be difficult to see.
My favorite gadget, the iPad, can make this really easy. Just search the app store for grayscale or greyscale (you'll get different results) and try one of the free apps. I recommend looking for one that will give you a black & white preview.
UPDATE: This app is an iPhone app. After you search, you will have to select the button at the top of the page for iPhone. The app works just as well on the ipad. After installing, just click the 2x button once in the lower right. It will fill the screen and act just like an iPad app.
From this photo we can tell that there is enough difference between the values. The color really doesn't matter. Flip this around and use the grayscale method to choose your background wools. If you can't tell a difference in black and white, you will not see a difference once they are hooked. They will blend beautifully.