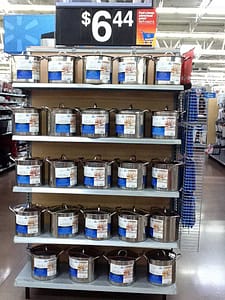 I saw these stainless steel pots the other day at Wal-mart. They are not very large but if you are dyeing for just yourself and usually dying 1/2 yards, they are plenty big. Add a yard of wool, a starter set of dyes (code: SLINT) from ProChem Dyes, and my dye book, "Dyeing by the Numbers" and you have any color in the world.
These pots are probably seasonal. I don't remember seeing them in the store before.
My dye book uses a method that eliminates the need for the very expensive dye spoons that you need to measure the tiny amounts such as 1/16, 1/32, 1/64 and 1/128. The last time I checked the spoons cost $65. The items above together will cost less than that!