I found this video by Jane Halliwell Green and knew I had to share it. Beautiful even loops are not an advantage when hooking landscapes or pictorials or anything else found in nature. The straight even lines that perfect loops create are distracting and do not look natural. I've been teaching a method where you turn every loop in a different direction, called antigodlin, but even that can create an unnatural pattern if you settle into a rhythm.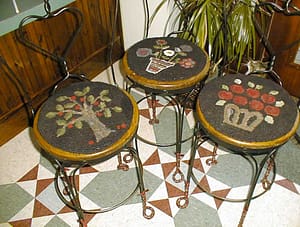 Beginner's Loops
In some ways beginners have the advantage when it comes to interesting loops. When I hooked my first few projects, three chair pads for the bar stools, I did not install them until all three were complete. My husband remarked that I was improving. Well I did not know much about rug hooking at the time and he knew even less. How did he know I was improving? When I asked he pointed to the first chair pad (right) and said that the texture of that one was so much more interesting that the other two. Right then and there I knew that the quality of my loops did not matter.
Crooked Loops Without Trying
Jane's method is to twist the strip underneath so that when it is pulled to the surface it is twisted. I know many of you have worked years to perfect your method to hook perfect even loops but like anything else in life, be careful what you wish for. In my personal work, I have been using a mental technique I call "hooking naked." Think of it as hooking without judgment. Hook as if no one is looking. Hook as fast as you can. My loops have a certain energy and freedom when I have that frame of mind that I do not get if I try to make "good" loops.  Watch the video and you will see how Jane does it.
So what do you think? Will you be twisting your strips? I've used this technique in the past by accident and left the twisted loops in place because they worked, but I think I will be twisting it up on purpose more often.
A long time student of mine, Meryl Nelson of Cape May, NJ, has nontraditional loops and produces wonderful, whimsical work. She learned from Deanne Fitzpatrick of Nova Scotia who is a well known rug hooking artist with less than perfect loops. Her work is beautiful and full of spirit. See some of Deanne's books here.