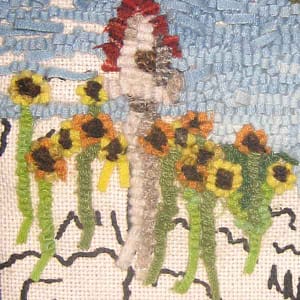 The most important thing I can say about hooking anything small is to not look at closeup photos. Sure it makes sense when I say it plainly here, but I am surprised by how often I see this process. If you are hooking something in the distance, get reference photos of that something from a distance.
All you can see of sunflowers at a distance is a ring of the petal color surrounding a center and green. Here I am hooking a variety of yellows and oranges, some bright and some dull. I even did the beading stitch for a few of them, combining two colors in one flower. I hooked this a while ago. Maybe I was bored. There is not always a clear reason why I do something, I just follow my instincts.
The variety helps with a sense of distance. Keep the brighter, lighter colors in the front, hooking partial darker and duller flowers behind them.
I also added a patch of blue flowers behind the birch tree. What are they? I have no idea. I just wanted to get blue up into that area and I knew if I extended a flower patch across the back of the birch tree it would add distance.
Notice that the sky is not done yet, I will hook a bit of that each time I sit down until it is done. That way I never have "just background" to hook.