Everyone goes to rug camp for different reasons. Some of us are coming to learn something new, others are looking forward to spending time with friends and still others are just running away from the pressures of home for a week. For me, my reasons involve a little of all three.
When I received my intro letter from Lucille Festa who will be my teacher at the Sauder Village Rug Camp this year, I started thinking about what I would hook that week. I knew I wanted it to be primitive to get the most out of my time with Lucille who specializes in primitive hooking. I wanted it small. I still have that room-sized rug in the works. I have been unable to make significant progress with it due to my teaching commitments for the past several years. The class is in August so I have a while, but I know how fast the summer goes by and I have to prepare for the class I will be teaching in Fredericksburg, TX in September.
Finding a rug hooking pattern for rug camp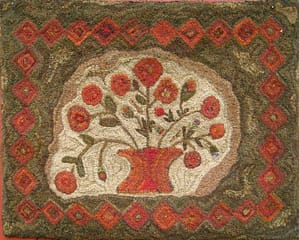 Lucille had her website listed on the letter so I went there first. I fell in love with Paper Roses, but it is 30″ x 41.5″, a size I would normally love to hook because you end up with a usable size rug. I know my limits right now and I knew I needed something smaller.
As much as I like the pattern, I knew I would be distracted for the next year or so. In May of this year, we bought a farm house in the country that needs a lot of work.

Lucille has a category called smalls so I clicked on that. I liked P A Roses. It was only 14″ x 14″. That is doable. Hmm….
I was getting closer. What about a stair riser? Lucille has some of those on her website also. Then I remembered a stair riser I had designed last year in prep for my class with Barbara Carroll. Where was that one? A quick search of my computer showed me that the design was complete and ready to go but I never finished the process and posted it on my website. So here it is:

These modest simple flowers remind me of my Great Grandmother, Minna. They immigrated to this country with my Grandmother, Marie. My Great Grandfather was a wonderful gardener. Even as a youngster I was impressed with how neat and tidy it was.

Several years after I started rug hooking I was looking as some old paperwork and was surprised to learn that my Great Grandfather's occupation in Germany was rug making. It was probably weaving or knotting of some sort but it was comforting to know that my love of rug hooking may have deep roots.



Here are my preliminary color choices. I won't know for sure if this is what I will be using until I start hooking. Lucille is bound to have a few treasures that I cannot resist and I could completely change my mind by then and go with blue flowers.
No idea on a background yet either. I always have my Antique Bundles handy or a Best Beige bundle. They are my default backgrounds when nothing else stands out. They both work with almost any color plan.