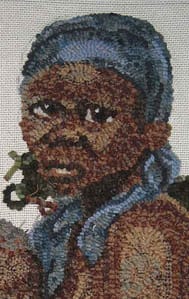 I chose blue for the headscarf because it is a complementary color with orange. Brown is really just a dark orange. I didn't try to get too fancy with the scarf because I do not want the attention there. I want you to notice the baby and the mother, not what the mother is wearing. I used scraps pulled from my scrap bin. They looked like they had been marbelized.
I filled in at her neck and may make a few adjustments there later, but for now, I will continue hooking.
---
Want to learn how to hook faces?
I am creating an online course that goes into a lot more detail. Watch me hook every stage of a face. This will be open for enrollment in Spring 2022.