Hooking hair can be difficult because it will look like a helmet unless you take some time to think about the hair that you are hooking. In this case, I wanted the hair to look very fine. I chose a herringbone in two different shades, one just slightly darker than the other. I have a large collection of herringbones. I don't think you can have too many browns and greys because they are perfect for animals and hair.
Notice that I also hooked some of the flesh color in the scalp. If I had hooked a solid mass of hair I would not have gotten the fine delicate look that I wanted. I kept most of the dark value at the outer edges and kept the hairline very irregular.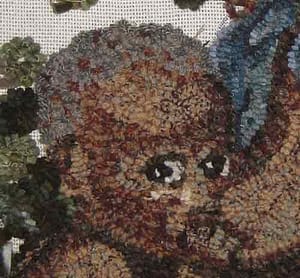 ---
Want to learn how to hook faces?
I am creating an online course that goes into a lot more detail. Watch me hook every stage of a face. This will be open for enrollment in Spring 2022.