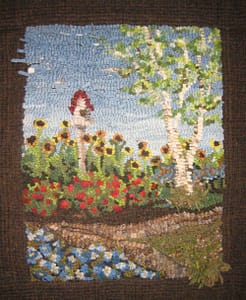 This is as far as I will go with this piece. I am leaving the sky unhooked on purpose because I think it will make a better teaching piece. Sometimes it is easier to duplicate a technique when you can clearly see all the steps. I posted this picture large. Click on it to enlarge it in a separate browser window. On some systems you can click on it again and it will get even larger. I wanted you to be able to see each and every loop. The method I use for hooking sky is explained in detail in my book, Pine Trees, Grass and Sky.
The sun in my world is at the upper right. Notice the dark side of the birch trees is on the left. I created the darker side of the rose bushes on the left also. They really came to life when I added the very dark. I used Dorr 44 which is a black green because that is what I had handy, but any really dark would work.
I worked back and forth between the sunflowers and the roses filling in with green. Notice that I changed the direction of hooking, but used the same colors. Be sure that the sunflower stalks that you hooked do not have a dark empty area underneath them. The stalks need to connect to the ground behind the rose bushes. Fill in the oddly shaped areas with the very dark to complete the area.
I'm still not really happy with the path, but I like it much better than before. I just pulled out some partial rows and added more dirt. Now it almost lays down. I am leaving the shagging technique that Jane teaches in the lower right. I am restraining myself from ripping that out and replacing it with another flower patch, maybe hollyhocks, something tall that would cover some of the path. That would help it to lay down even more.
Thanks for following the progress on this piece. It has reminded me how much I enjoy pictorials. I plan to design a simple pattern of my own that I will kit with full instructions. It may take as much as a year for this to become available, but it will be a pictorial fundamentals lesson in a bag. It will be a great way to get the lesson without the expense of travel.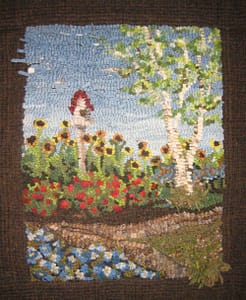 After seeing my piece side by side with Jane's, I noticed that neither of us strictly followed the pattern. That is the greatest joy of rug hooking a pictorial. You can plant flowers that would never bloom together at the same time and weeds are never a problem.