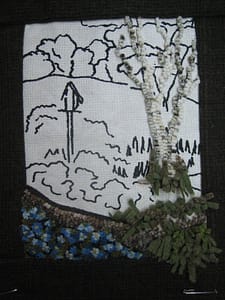 I used my specially dyed birch bark wool to hook the birch tree. Just simple hooking here. I cut the darker part of the wool in a #5, the lighter in #7 and simply hooked it. I did change the shape a bit. I used to have a birch tree in our backyard. It was a clump birch with multiple trunks placed close together. I kept the dark on the left side of the tree and used the smaller and darker strips to hook most of the smaller branches. It is hard to see in the photo because the color is close to the backing color. Once I get some of the area around the tree hooked, you will be able to see it more clearly.
Buy the birch here.

Below the base of the birch tree, I hooked a line of what Jane Halliwell Green calls shagging.
She has a demo video on youtube. I haven't trimmed the double line. Not sure if this technique works for me, but I'll trim it, get some hooking around it and show it to you again.

In the extreme lower right corner, I modified the technique a bit and did some high and low hooking in two different greens, then added some of the pathway wool in between to separate it. I like how it looks wild and unkept. I'll keep experimenting there to see where it takes me.