After you register, you will get a welcome email with the link. If you get asked a password, Register again here to get a link that includes the password.
You can find this page again by visiting rughookin.com
How to join me for the first time
If you attended my live rug hooking lessons during 2017, 2018 or 2019 you already have the software you need. Just click the green button above to register.
Store the link in a safe place
I recommend storing the link in the recurring event you are going to make in your calendar, complete with alerts, right? When you need it, it will always be there.
If you are a member of The Rug Hooking Journey, log into the Dashboard and click the link there. It will ALWAYS point you to the right place.
How to download the software.
The easiest way is to click the green button above and follow the prompts. The system will know which app to download for your device.
Once it is downloaded, install it. Then close it. You will NEVER have to open it again. It just needs to be there so when you click the link it will open automatically.
At 4pm eastern on the right day, click the link. I recommend that you paste it into your calendar where you set up the even to be recurring every week. Then set up a reminder or two so you don't forget.
How to join the hook-in
You are registered and have the link. Now just click the link.
Be sure to allow your camera and microphone so you can join in on the fun. We don't care what you look like on camera. This is NOT recorded. This gathering satisfies the requirement for social distancing but we can all be here together.
If you get prompted to join the audio, be sure to do that so you can hear us.

Even easier for members
If you have a user id and password (you can get one for free by registering for the live lesson reminders) you can log in and just click the button. You are guaranteed to have the right link because they do change from time to time, usually due to forces outside my control.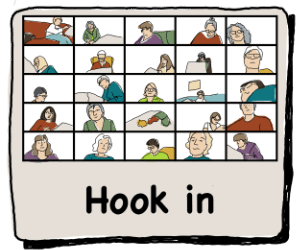 There is also a link there for the Live! Lessons!
Can I use my phone, tablet or computer?

Yes, this works on ALL devices. The important thing is to let the system do the work. Click the Join Me Now button above. It will load the correct software.
Can anyone join this? Is there a fee?

No during our recovery from the virus, this feature is free and open to everyone. Later when we all get busy again, I will keep this feature and move it into The Rug Hooking Journey, my online rug hooking membership. You can join at any time. Choose monthly, 6-month or yearly payments. Look for a nice discount when you approach your one year anniversary.
I'm not techy

The hardest part is getting the software on your system. It installs like any app. If you are still confused, just call me I will walk you through it. When it is time to join the meeting, all you have to do is click the link at the right time.

419-287-3884 between 9am and 7pm. Please don't wait until the last minute.
Will I get an email reminder?

Not at this time. I am not requiring registration. Set up a recurring event on your calendar and copy the link so it will be easy to find. I also recommend reminder alerts. I have one that goes off a 9am so I know what is coming that day, one an hour before so I can finish up what I am working on and another about 10 minutes before. You don't want to be late, do you?