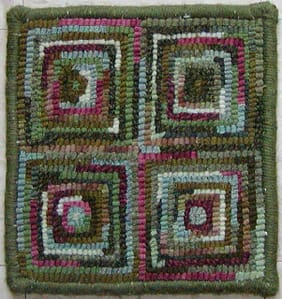 This is the project that I encourage all beginners to start with for many reasons:
All straight lines, no curves
Small enough to finish in a short time, often less than a week
Inexpensive
Useful. Makes the best coaster.
You get to pick your own colors!
Preparing the rug hooking backing
Start with a piece of backing about 18″ x 18″. Even though the finished size is only 6″ x 6″ you need extra backing so it attaches easily to your frame or fits in your hoop and gives you plenty of room to work. Backing is cheap compared to the wool we use, so don't skimp. I will often leave 12″-24″ of blank backing around my designs so I have plenty of room to expand wherever the rug wants to take me. I have several feet extra on all sides of my room-sized rug because I am designing it as I go. On smaller pieces I make sure to have enough backing so I can still hook the edges of the pattern in the center of my frame. Okay, I'll admit it. I like to be comfortable. Scrimping on the backing is a sure path to frustration.
If you are buying a commercial pattern, ask to have extra backing around the edges, particularly if you may be adding an additional border. Most designers will do this for you, but expect to pay an extra charge, after all you are using more backing.
Zig zag the edges of the backing or wrap them in masking tape. I've done both. The masking tape is fast but it can irritate your arm as you hook. If you have a Serger, then by all means use it!
Drawing the Pattern
Fold the backing into four layers and mark the center. Open it up and draw lines from this point north, south, east and west. Now measure from the center 3″ out on all four lines. Draw lines at this point to indicate the outer edge of the pattern. You can leave this in pencil or make the lines darker with marker. If you use marker, be sure it is a Sharpie Industrial. They are permanent at temperatures up to 500 degrees. The regular Sharpies are permanent at room temperature. When we finish the rug and apply steam, your rug is no longer at room temperature.
Gather your wool for rug hooking
You will need about 2 1/2 ounces of cut strips. Use a variety of cuts and solids or textures. This is your chance to try them all. Start with one of the squares on an inner side. When you hook always stay slightly inside the line. It will not matter in this pattern, but you might as well start with good habits.
Change the color of your wool as often as you like. Avoid starting and stopping at the same place in each row unless you are deliberately creating a design. Hook some strips to the end of the strip, stop others before you get to the end. Have fun. Don't make this hard. All colors will look odd until you have more hooked around them. Just keep going. You can always go back and adjust. That is one of the best features about rug hooking.
Finishing
Repeat this process for all squares and finish it off. See my favorite finishing method, the Fold Forward Method.
Here are Some Other Hooked Squares
Send me a photo of your Beginner Square! Send it to cindi [at] cindigay [dot] com.