Are you struggling while rug hooking pictorial rugs?  This book can help.
Buy the book.
Some of you picked up the book when it was available for the first time at Sauder Village in August 2015. Many of you found it on the website, but I've never announced that it was available … until now.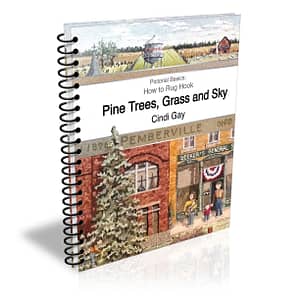 The book more closely resembles the Kindle version on Amazon. If you prefer to hold real paper in your hands, this is the book for you.
Even if you have the old version (editions 1 -4), you'll find something new in this one. Most of the pages have color pictures. All of the illustrations are larger. There is more text.
Rug hooking landscapes to look realistic can be difficult. All the changes have been designed to help you rug hook pictorials.
The book has grown from 17 pages in edition 1 to almost 80! You can buy it here.
Reviews
My designs have improved so much since I purchased your book. I would say to all, purchase this book, you will be glad you did.
—

Jan
Not just pretty pictures, but lots of information and techniques on how to actually create pictorial rugs. I would definitely recommend this book to anyone in the rug hooking world. I have come back to it many times. It's a keeper for sure and a valuable part of my rug hooking library.
—

Lorac
This book is equally valuable to the beginner and the expert rug hooker. It is also extremely interesting and well written. If you buy one book for your rug hooking reference library this year, this should be it.
—

delanolady
These are just excerpts of the first three reviews on Amazon. You can read them all here. Be sure to leave your own comments if you've read the book!
What is your best tip for rug hooking pictorial rugs?
Use the comment box below to share your best tip or ah-ha moment.
If you bought on Amazon, please leave your review there also. It helps other rug hookers to find my book and to make a decision if it is right for them.