This book is thicker than some of the Rug Hooking Framework Series books. So right off the bat it feels like a value. The first thing I do is flip through the book looking at the pictures. With some books, that is where it ends. With this book, I could not wait to read the text.
It has a nice mix of new rugs and antique ones. Several photos have already inspired new ideas for me. I've only read a small bit and I am using great restraint by reading from the beginning only, not jumping ahead.
---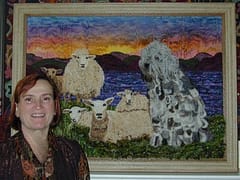 Disclaimer: Gail is a good friend of mine. I tried to keep my review as neutral as possible, but it wasn't hard. This is a beautiful book. It was a real kick to search for a friend's name on Amazon.com. Congratulations on a great book, Gail.
---
And for those of you with an iPad – – – – – a Kindle edition! I can only imagine how beautiful this is on the iPad screen. This would make a wonderful addition to your portable library. You can read it while waiting in the doctor's office or during a solitary lunch.
And Sue in Lima, OH, I know you are thinking it: Yes, I am jealous.