Do I hook the area at the outside edge of the footstool pattern or is that where it turns under?
I've been asked that question more than once so here is an in-depth answer.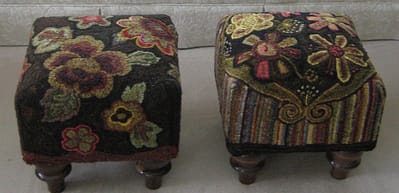 The footstool patterns that I design have a bottom border for a very practical reason. When you are fitting your footstool to the footstool frame, there is always some adjustment that needs to be done. The different backings stretch in different ways. This is something that does not affect a rug but it could affect the fitting of your footstool cover. The way you hook, tight, loose, high or low could affect the fit. The padding of your footstool frame can contribute another cause of variation. There are a lot of possible reasons why you may need to adjust the fit.
As long as you hook slightly inside the pattern lines, your footstool should be slightly small before seaming. You will be adding 8 rows of hooking during the process of sewing the side seams. The biggest problem seems to be in length and is usually traced back to an error in the footstool construction. Fix the construction or fix the hooking.
Hooking is too long:

Add height to the footstool by adding a layer of plywood to the bottom.
Shorten the hooking by removing a row or two.
Do a combination of the two solutions above.

Hooking is too short: Add more rows of hooking.
Because most people need to add or subtract from the length, a simple border is the easiest way to make the adjustment. There is no danger of having to rip out the actual design.
The footstool above hooked by Gail Soileau clearly shows the bottom border. It is on the outside of the flat rug. The pattern was carefully fitted to the footstool frame before the edges were cut. The length should be slightly short. I put my chest on the footstool and press down while pulling the edge to the bottom of the frame. It should just touch the bottom of the wood. When the rug is stapled down the loops will end right at the corner. The loops should not roll under the frame.