What you will need to build your footstool to fit under my footstool patterns:
Pattern and wool
Order your footstool pattern and assemble your wool, or simply send me your color visions and let me color plan it for you. This is a service I offer to all workshop attendees, but you can get this service without the workshop. I do give priority to workshop students so you might have to wait a while. Please contact me for availability.

2x 4's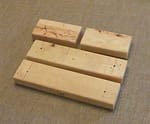 1/2″ plywood
2 @ 15″ x 6 1/2″
2 @ 14″ x 6 1/2″
1 @ 15″ x 15″
Foam (high density)
1 @ 13″ x 13″: 1/2″ thick
1 @ 11″ x 11″: 1/2″ thick
1 @ 15″ x 15″: 1″ thick
Soft and Crafty quilt batting, 10 oz. per yard
2 @ 15″ x 8 1/2″
1 @ 31 1/2″ x 16″
Footstool Feet
4 @ 6″ tall, 4″ in diameter
see the next post in this series for more details
Miscellaneous Supplies
wood glue
5/8 x 5 Steel Joint Fasteners aka corrugated fasteners
2″ finish nails and hammer
Spray adhesive to attach the foam to the wood
Needle and button hole or hand quilting thread to sew the seams
Strips of wool that match what you used around the seams
Staple gun and staples (air or electric is easier)
Small amount of extra quilt batting or polyfill to stuff the corners.
1/2 yard of a thin fabric to line the underside
2 yards gimp to cover staples
Label with your name and other information
Make your own rug hooked footstool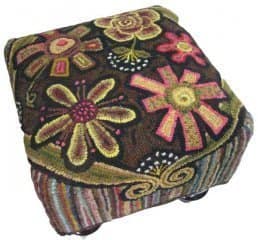 I have several rug hooking footstool patterns available. I am posting complete instructions (videos are still being edited) on how to build your own using simple 2x4s, plywood and foam. There is a complete cutting diagram for the wood and the foam. I also have instructions on how to finish your hooking so you can complete your rug hooked footstool. Here are the list of instructions available so far:
Missing something? Please let me know so I can make these instructions as complete as possible.