How often have you thought "I should quit my job and go live on a tropical island?" My son, Bob, is doing exactly that. His long term relationship with his girlfriend has ended and NYC is killing him. He has given notice and will be leaving CBS at the end of January.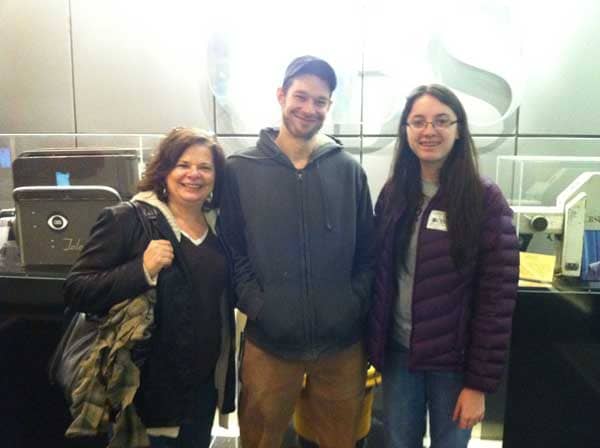 He needed some holiday cheer so Ally and I left the day after Christmas armed with leftovers from the holiday meal and a cookie care box from his sister, Jenny. Ally and I spent two days tracking down used book stores in NYC while Bob was working. We met him one day at the end of the day and got a private tour of the CBS shop. He even walked us onto the new CBS morning show set that he had been working on. It was amazing to see what he had been working on.
I have finally convinced him to document his adventure. He has no set plan. He's going to "go with the flow." He has a one-way ticket to Hawaii. He has been lining up some odd jobs through Craig's List to get him started. Luckily, he has experience in fixing or building almost anything. He can do rough or finish carpentry, weld, and paint. What he doesn't know how to do, he researches and learns. I am amazed at his ability and courage. My great grandparents came to this country in the same way. How many of us could do the same thing?
If you want to follow his progress, you can subscribe to his website at www.trebordesigns.com.
-This was an unexpected trip. I'll be back to the footstool instructions as soon as I can.
Update: June 2012
Bob is back to his job at CBS in NYC and hitting the back packing trails whenever he gets a weekend off.