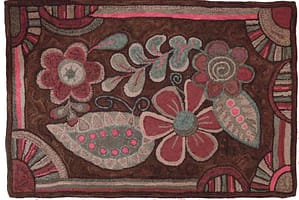 Diane was among the first to hook my new rug hooking pattern, Floral Tangle, certainly the first one I've seen finished. Diane asked for a complete color plan for Cape May's Rugs by the Sea rug camp in September 2012 (yes, just a month ago). She sent me paint chips of the colors used in her home and even a sample of the wood from her floor. I had all the tools I needed to assemble her wool.
Some of the highlights starting in the upper left:
Flower – notice the number of different wools used. The petals are outlined in a beige texture, then with a solid red, then filled with a red plaid. The center is hooked with three greens and a beige.
Small leaf – Outlined in a solid green, filled with a texture.
Vine – different vein and fill wools create interest in this motif.
Flower – Different outline wools and different fills create movement and interest.
Medium leaf – Notice the darker beige texture used to hook the outline of the squiggle. An outline with a textured wool is always softer than one hooked with a solid wool. Notice that the circles are hooked using a darker red only part of the way around the circle, then filled with a lighter value.

Hooked by Diane Luszcz

Daisy – Notice the different wools used to outline the flowers. Immediately after the outline is a line hooked with a textured wool. The reds are the same ones used in the upper left flower. Their use is just reversed.
Large leaf – Three different wools are used to hooked the triangles. This softens the shape and makes them glow. The dots are outlined with one red, filled with another and then outlined first in a bright green, then the area is filled with a different green.
The background uses one of my favorite techniques. A darker outline wool keeps the edges crisp and the lighter brown background just glows. The dark is a textured wool and the background is one of my Antique Background bundles.
Border. During camp we did not have time to get to the border in detail. I had the placement of the colors laid out thanks to the advance color planning. It was Diane's idea to outline the segments with the dark plaid. I love that she did a hit and miss in each segment rather than hooking them solid. It softens the graphic nature of the design. Good job, Diane.


Here are more rug hooking tips for this pattern.
Diane hooked the small version of this pattern. It looks like the rug has become a welcome addition to the home.