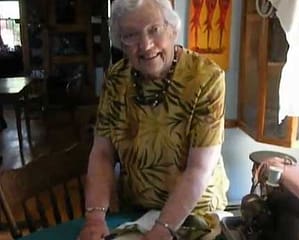 If you are looking for a simple finish, try this one.
Doris Eaton demonstrates the Eaton Edge.
The way to evaluate a finish is to ask where is the knife fold edge? Simply turning back the edge with sewn on rug tape is not a long wearing finish because what causes our backing to fail is the sharp fold and time. I've often heard, "It's just a wall hanging." You still have to deal with time –unless you've figured a way around that and if you have, give me a call.
This finish is supported by the first row of upside down loops so there is some support but you have to be comfortable with the look of the finish. When the binding wears out, you could probably whip over it with yarn, but you will have to do the entire rug instead of just the wear spot as you would for a whipped rug.
Be sure the tension on your sewing machine is just right. I've seen this done by a new student and the tension was so off her rug could not lay flat. Picking out sewing machine stitches is very difficult without damaging the backing. You may consider sewing it on by hand or sewing it down with a embroidery chain stitch and yarn as I did for the purse below.
I'll have a post on this purse soon.