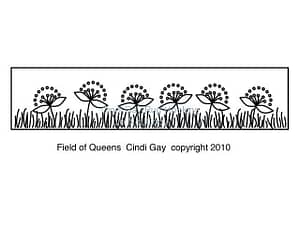 When I think of Queen Ann's lace I think of the alley behind our house. There is a small strip of ground between the "garage" and the pavement. Queen Ann lace was always a problem there until I decided to stop fighting it and began to nurture it. Now I get 4 foot tall stems with big beautiful blooms.
This is one of the stair riser patterns I have not hooked yet but while I was designing it I saw it with a dark background (like the rest of the risers), white Queen Ann's lace, and hit or miss grass using every color in my scrap basket.
I've taught this pattern several times and the most popular way to hook it is with a clear blue sky. For the perfect sky, I recommend my specially dyed sky wool.
How to hook Queen Ann's lace
Tips on how to hook this motif can be found on the Rug eSchool.

The amount of wool you will need for this rug hooking pattern:
Please note that these quantities may not be fully tested. If you hooked this rug and know the quantities you used, please let me know how your quantities compare, even if they match.
*One yard of wool = 16 strips, 1/4 yard = 4 strips.
See How to Rip New Wool (off the bolt) for Dyeing for instruction on how to segment your wool.
Background- 1/2 yard
White for dots – 1 strip
Grass – For interest, 5-6 different wools or use your scrap bin.
Have you hooked this pattern or one of my other rug hooking patterns?
I would love to see a photo. Please let me know if it is OK to share it on this website, if not I will keep it private. Be sure to include your full name and home town. If you have any questions or comments, contact me using the Contact Me link in the menu above.
I would love to get feedback on how much wool it took YOU to hook one of my patterns. I plan to have wool requirements for all patterns. To help me set priorities, please ask about wool requirements for any pattern you cannot find listed.