As promised yesterday, here is the information on the marbelizing method. Follow this quick recipe: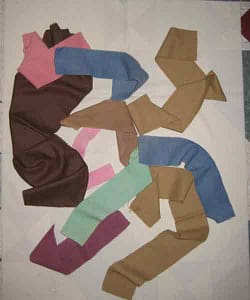 Place wool that you have rolled and twisted into a large pan.
Cover with water.
Add a healthy dose of soap. I prefer Ivory dish soap, but laundry soap will work also. Just be sure it does NOT have bleach. Bleach will actually dissolve wool.
Heat until near boil.
Continue cooking until the water turns color. If you added blue wool, the water will turn blue. If you added red, the water will turn pink — you get the idea. The longer you cook it, the darker this "tea" will get and the more alike the wools in the pot will become. If you do not get color, raise the heat and/or add more soap. If you try both and still don't have color, you are probably cooking a texture. The results on solid wool are more reliable.
Add vinegar and cook 30 minutes at a low simmer.
Wash and dry.
A favorite method is to create a spot dye effect with scraps. This is a great way to tone those unusable pieces of solid recycled wool as well as a large piece of wool. Use your imagination. You can combine groups of colors or get wild. Every combination will give you something different. It's exciting but unpredictable.