Never use a ruler to draw straight lines on your backing. While the ruler may be straight, the backing probably isn't. I prefer rug warp and this technique works best on that backing. Rug warp has a very straight and even weave making your success with straight lines even easier.
Determine where you want your mark and place your pencil between the threads. Point the eraser of the pencil in the direction you want to draw the line. Put a finger on the backing near your pencil lead. While pressing down slightly, drag the pencil across. You will feel the pencil jump if it leaves the correct row.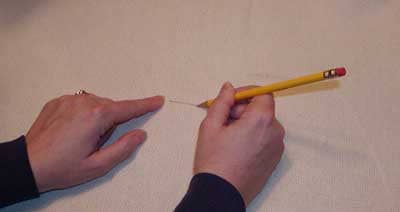 Redraw the line with a marker so that the pencil does not fade or rub off.
A perfect straight line. Great for borders, aligning lettering or drawing rectangular shapes for buildings, geometrics, etc.