After spending an entire week in the company of good friends, in a room painted a beautiful shade of turquoise, I am finally putting the finishing touches on my room-sized hooked rug. As we still have another full day here, we could have waited a little longer to take the photo, but the weather might not be as pleasant as it has been, so we decided to take it today, to avoid any potential weather-related issues. It has been an unforgettable experience, filled with laughter, good conversation, and a sense of camaraderie that is hard to find in today's fast-paced world. I will cherish these memories for a long time to come, and I am grateful for the opportunity to have been a part of something so special.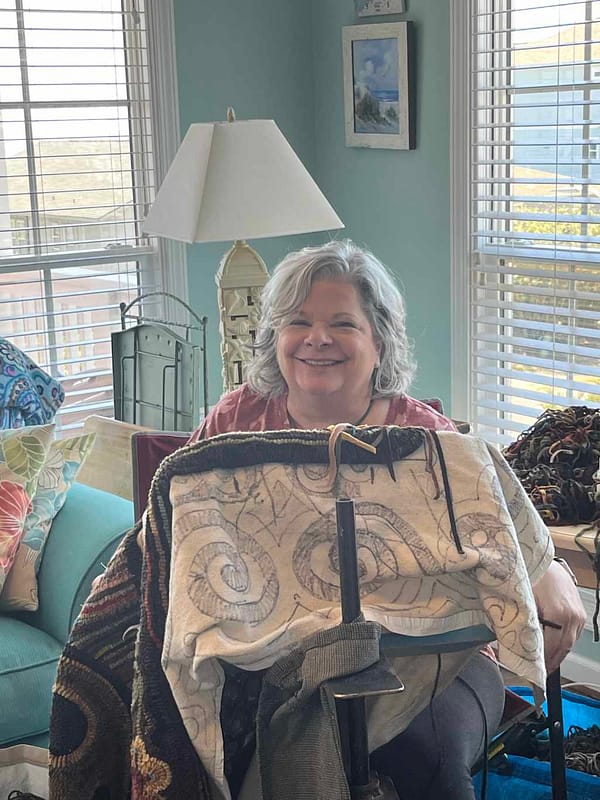 See that tiny bit in the upper right? I hope to finish that tomorrow.
This is the porch where we hooked all week and watched groups of pelicans fly by several times a day. Hint: this place is available for rental. I highly recommend it.
I tried to get out to the beach every day, but missed a day or two. Rita was my beach companion. Luckily it was a very short walk. I am scheduled for a knee replacement a week from Monday. We only walked as far as I could tolerate, but I loved every minute. I was fascinated by the patterns of bubbles in the waves. This may be an inspiration for an abstract rug someday. I need to start collecting new rug ideas, right?
[room-sized]