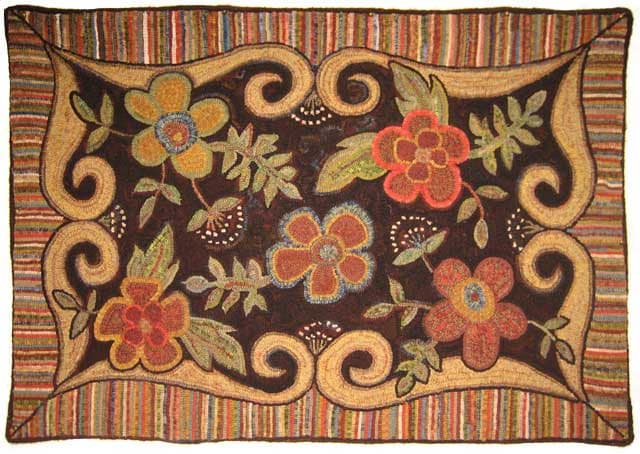 [wp_eStore_fancy:product_id:11:end]
[wp_eStore_fancy:product_id:110:end]
This pattern was developed just before I finalized the design for my room-sized rug. It uses many of the same elements. The area outside the scroll is intended to be hooked hit and miss but be sure to develop it in your own style.
Here are some closeups of elements that I used in my rug. They are slightly different because I am hooking on a different pattern. The Conquest of Queen Anne does not have the circle border, but you can see how I handled the scroll and hit and miss. I especially like the way that the hit and miss is crooked.
Here you can see the small leaf clusters. I used six to eight different wools in each small petal. I find that mixing a lot of different wools together makes the hooking more interesting — to look at and to do and because I am using every green all over the rug they are automatically balanced.
I added small lines in the petals of the flower with the fried egg center. It helps to break up the space and gives me another opportunity to bring in more wools.
Have you hooked this pattern or one of my other rug hooking patterns?
I would love to see a photo. Please let me know if it is OK to share it on this website, if not I will keep it private. Be sure to include your full name and home town. If you have any questions or comments, contact me using the Contact Me link in the menu above.
I would love to get feedback on how much wool it took YOU to hook one of my patterns. I plan to have wool requirements for all patterns. To help me set priorities, please ask about wool requirements for any pattern you cannot find listed.
Wools used in the example above:
For most of the flower fill:
[store id=39]
For the scroll fill:
[store id=31]
Other rug hooked examples of Conquest of Queen Anne: