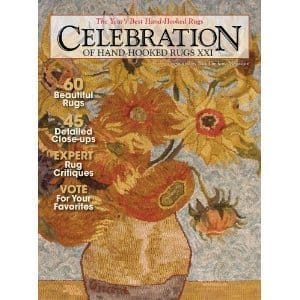 Sally Kerr told me some months ago that her rug was chosen to appear in Celebrations XXI. I just found out it is the cover!
Sally and her cousin, Judy, have been in my class several times at various workshops. A few years ago we were in Ligonier, PA. Sally wanted to hook Van Gogh's Sunflowers. I provided the wool and a bit of guidance, Sally did the rest. She painstakingly studied the original artwork so she could duplicate the brushstrokes in wool. It is amazing.

I'll have both of them in class again in August 2011 at Sauder Village. I cannot wait to see them and the rug in person.
Great job, Sally!
You can preorder the book from Amazon. Click on the link on the left.