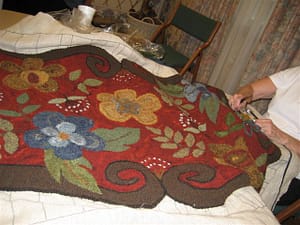 I will be teaching a class at Sauder village this August about how to use the computer in rug hooking. As part of that class prep, I am compiling a list of rug hooking sites. If you are the owner of a site, and would like to be listed, please send me full text and photos. Your submission is my permission to list your site and use the photos you send. If you visit several rug hooking sites on a regular basis, please let me know about them. I'll contact the owners and get the info.
See the rug hooking websites I have listed so far.
A simple listing did not make sense once I had several websites listed. How would you find anything? I set up a new website just to list other websites. Sure you have the search engines, but this will help you to find the rug hooking websites that are paying attention to the rug hooking community. The link above and the menu item above now go to the new website.
I included a form on this post to make it easier for you to send me the details.
You can forward the email to owners of rug hooking sites. If you didn't get an email, you are not a confirmed subscriber, so sign up today! See the form in the footer below. Be sure to confirm your email. Look for the email sent to you by Feedburner. Click on the link provided. After that, you will get an email every time I create a new post, usually just a few times a month. I post more often in the winter when I am not traveling. You can unsubscribe at any time, but please send me an email about why you are leaving. It will help me to improve this service.
What sites do you visit?
Be sure to visit www.rughookingwebsites.com to get a feel for how the sites are listed. I will need full text that I can copy and paste, photos, and the categories that your site should be listed under. See the sidebar on the website.
[contact-form 4 "Link Form_copy_copy"]