Using four values of blue and two different greens, I hooked the small patch of flowers in the lower left of the pattern. I roughly hooked small circles trying to keep it as random as possible. Random does not mean evenly spaced. Random takes some thought and does not happen by accident.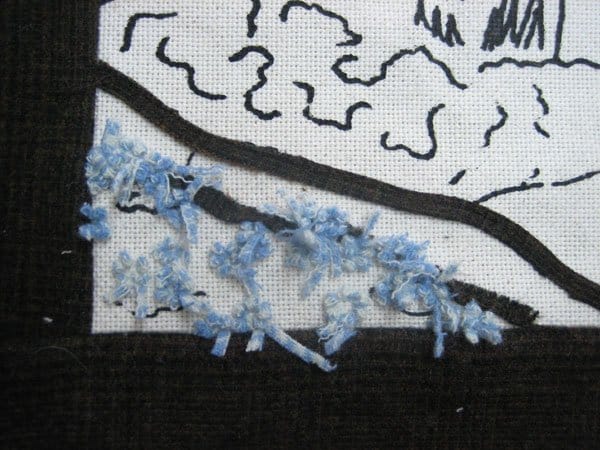 I do not trim my tails until I have enough hooked to hold them in place. I know this drives some of you crazy, but bear with me. By the end of the post, you will see it all trimmed and tidy. In the photo below I've added the second value of blue, still hooking tiny circles, but now some are only partial circles.
Now I added the third value and trimmed the tails. Looks good but it is a bit blah.
Now let's step back and look at the entire pattern.
Time for some contrast. Let's add some green and a suggestion of a yellow center in some of the flowers.
Adding another green and the darkest value of blue really gives the flowers some depth.
Fill in the path with a favorite texture and this area is complete for today.
Sorry about the change in color. The light in my studio had changed by the time I had this hooked.