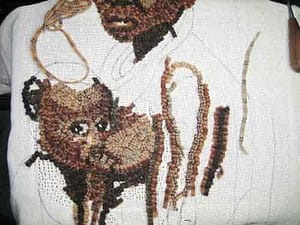 I filled in the baby's face using the same principles of finding the dark and the light. Hook these areas and then fill in with medium. This is the same technique I use to hook pine trees. Hook the light, then the dark, and then fill with medium.
Background technique used for flesh
Notice I am laying out the hooking on the upper arm. I hooked around the area that will be light. Dark is only at the point where the arm meets the body. The rest is medium. I am careful not to hook the large areas in concentric circles. This is often called echoing. Echoing is not a bad technique. But I prefer to use it on purpose, not by default. The rows of echo hooking will draw your eye. Is this an area where you want the eye to linger? No. So I hook my "jig saw puzzle" shapes.
---
Want to learn how to hook faces?
I am creating an online course that goes into a lot more detail. Watch me hook every stage of a face. This will be open for enrollment in Spring 2022.