One of my purchases at the ATHA national was a beautifully made snippets basket hand made by Kay Kjeldgaard of Bloomington, IL.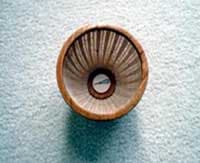 It has two strong earth magnets on the bottom.  One is glued to the bottom of the basket and the other goes under your hooking to hold the basket in place.  The pretty little medallion on the bottom with a hook is incentive to empty it periodically.
I'm posting links here to Kay's flyer.  She has other handmade baskets available.  They are perfect for rug hooking because Kay is a rug hooker herself.
flyer-aug-2010-p1
flyer-dec-2010-p2
If you plan to order a basket as a gift be sure to allow plenty of time.  Like our rugs, these baskets take some time to put together.