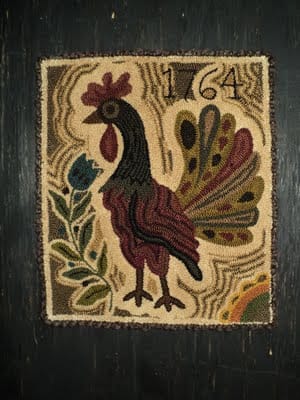 I've been intrigued lately by very primitive and free spirited backgrounds. Marte Bordeaux did this piece in punch needle, but it could make a great hooked piece also.
What makes it a great background?  First of all you can clearly see the motif because the dark chicken and flower are outlined by a much lighter cream.  Value is important, color is secondary.  To soften the transition to the medium dark brown that is the ultimate background, Marte used several different values and colors that create a visual bridge from the lightest value to the darkest.  Sometimes she used rows of alternating colors, such as around the chicken's head.  Notice the block of tan near the flower between two leaves.  I love the little pop of colors that are along the stem but are not attached to anything.  See how some of the dots almost disappear because the value is similar to the background.  Love when that happens.  Not everything needs to be seen clearly.
What else have you noticed about this piece?
See more information about this piece and other work by Marte by visiting Boggy Creek Primitives. Contact the designer, Debbie St.Germain by visiting her website.