Linda sent me this via email. I love seeing my designs hooked up. Thanks Linda!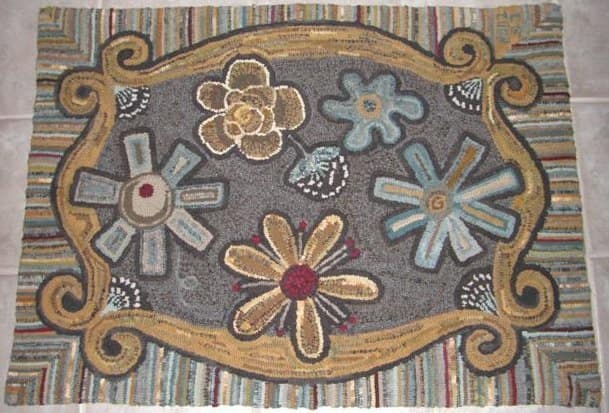 Here's what Karen Said About it:
I would be thrilled to be a part of your gallery.  Attached you will find Annie's Flower Power; it was a great piece to hook.  I always have trouble getting started on a new canvas but Kris was a super teacher and before I knew it, the colors were coming together to my satisfaction.  Now I have a completed canvas and a reason to redecorate my hooking/sewing room!   Thanks much,  Linda Gartner
Linda color planned the rug in a workshop with Kris Miller.
[store id=10]

Have you hooked this pattern or one of my other rug hooking patterns?
I would love to see a photo. Please let me know if it is OK to share it on this website, if not I will keep it private. Be sure to include your full name and home town. If you have any questions or comments, contact me using the Contact Me link in the menu above.
I would love to get feedback on how much wool it took YOU to hook one of my patterns. I plan to have wool requirements for all patterns. To help me set priorities, please ask about wool requirements for any pattern you cannot find listed.