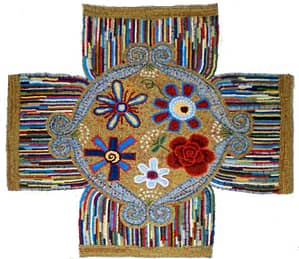 Nancy Weaver sent me this photo of her completed hooking for Annie's Flower Power Footstool – Square. She started this stool in September of 2011 at the Rugs by the Sea Rug Camp in Cape May, NJ.
This is the first one that I've seen finished with a gold background. It really makes the motifs pop and is still dark enough to show up the Queen Anne's Lace. The colors are really fun. Good job, Nancy.

Make your own rug hooked footstool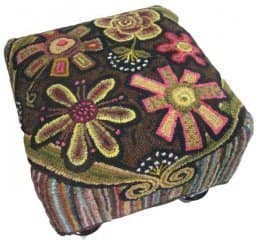 I have several rug hooking footstool patterns available. I am posting complete instructions (videos are still being edited) on how to build your own using simple 2x4s, plywood and foam. There is a complete cutting diagram for the wood and the foam. I also have instructions on how to finish your hooking so you can complete your rug hooked footstool. Here are the list of instructions available so far:
Missing something? Please let me know so I can make these instructions as complete as possible.
Have you hooked this pattern or one of my other rug hooking patterns?
I would love to see a photo. Please let me know if it is OK to share it on this website, if not I will keep it private. Be sure to include your full name and home town. If you have any questions or comments, contact me using the Contact Me link in the menu above.
I would love to get feedback on how much wool it took YOU to hook one of my patterns. I plan to have wool requirements for all patterns. To help me set priorities, please ask about wool requirements for any pattern you cannot find listed.
Finished Examples of Annie's Flower Power Footstool
First Place!

Flower Power, designed by Cindi Gay and hooked by Nancy Weaver at the September 2011 Rugs by the Sea Workshop in Cape May, NJ. The color palette was changed from the original design to go with Nancy's color scheme. Nancy has been hooking since late 2006 and is a member of the Goose Creek Ruggers Guild in Leesburg, VA and Mason-Dixon Region III, ATHA.

Nancy wrote: About 65 hookers gathered in Sterling, VA on this past Saturday (Jan 21, 2012), a very icy, cold, slippery day, to hook, eat fattening cookies, and shop (we had about six vendors). Susan Feller braved the elements from WVA and others came from NC and the VA area. We always have a rug show, as well as many, many door prizes. When they announced the first place winner–Flower Power by Nancy Weaver–well, I almost fell off my chair! Picture attached. Several of my cookie recipes are also attached–the waffle cookies are a breeze to make, kids love to bake them, too!