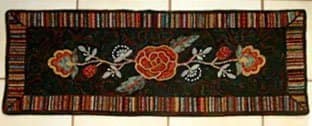 Margaret Woody of Edgewater, MD sent me the following email:
I still need to press Anne Arundel Rose and sew a label on the back, but here it is. I'm going to put it on an antique table on my porch where I do my hooking. I am so pleased with how it turned out – thanks for all your help. And I really like your whipping wool.
This pattern was designed at Margaret's request and she started it at the Podickery Workshop April 2011. She ordered the patten with extra backing so she had plenty of room to get creative. Margaret added some extra background area beyond the original boundary of the stair riser and topped it off with a hit and miss border. We added a pair of leaves around the flower in the middle that do not appear in the original pattern.
Did you know you can order a scroll border around any of the stair riser patterns? Here are a few.

Adding the extra space around the pattern is a way to make the simple stair riser patterns larger to use as a small accent rug or a table mat. Stair risers don't have to be just for the stairs.
Cindy Goolsby of Texas installed her stair riser over her beautiful desk.