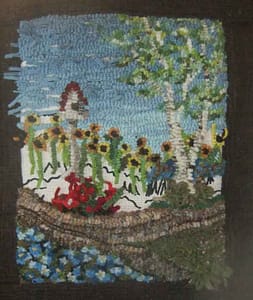 To the students of my ATHA class: My Piece is "done" and the kits are almost complete. See you in a week! Here are some progress posts to bring the progress up to speed.
I needed a splash of red and my Knock-out Roses were in full bloom, so red rose bushes became my focus. I chose three deep rich reds, one my favorite red that I call CG2005, a purple red and something bright and pinkish. Using a #4 cut, I hooked little blobs of color. I plan on hooking three bushes along the path.
I noticed that the line of sunflowers looked a bit lost hooked on just one side. I like how they are coming along so I extended them across the entire piece. Whenever you put something behind something else, you create an instant sense of depth. Compare this photo to the one in the last post.
The path was hooked as it was drawn. I rarely hook exactly what is on the pattern, so this time is no exception. I thickened the path and added a branch that comes in from the right. Something is off there, but I will fix it later. I just needed to pull loops. Notice how it looks more like a wall than a path?