In February I attended a meeting for WordPress, the software that runs my website. At that meeting I said out loud for the first time, that I would be retiring from teaching on the road. It was a decision that had been brewing for some time, and felt right. I was constantly feeling like I did not have time to get done what I needed to do. I really enjoyed teaching in my home. I've been experimenting with the home workshops for the last few years and the experience is better for me and better for the students. The classes are only 4 – 8 students. The workshop is generally less expensive. One group slept four to a room and only spent $25 a night each!
Gather a group of 4-8 friends and schedule your personal workshop. I teach whatever the people in the class what to learn. You don't even need to agree on one subject. With the small class size I have time to give everyone a full lesson. You can learn much more by listening to the lessons and actually participating. If you do not have a group, contact me and I have a wait list. As soon as there are several names, I will try to find a common time that works. This is a great way to make new friends!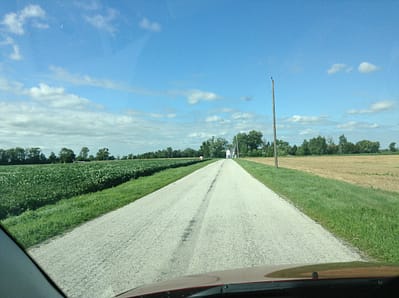 My husband was diligent for several months about checking out the real estate in our area that came up for sale. He initially started his search in southern Ohio and North Carolina. It was difficult to look at property at that distance. When 6988 Linwood came up for sale he passed it over. One problem he was trying to solve was the stairs. Our two story house is getting difficult for him with his bad knees. He wanted everything on one floor. This house has a second story but two of the bedrooms are on the first floor. What really sold it was the location. It just felt right. The pair of doves perched on the roof was all it took to seriously consider it.
It took some scrambling, but we were lucky enough to have our offer accepted. This new adventure was overwhelming, but exciting until about a week later, David had shortness of breath. He thought he had pneumonia. The emergency room told him he had congestive heart failure. A big blow to our plans, but they had a treatment plan. That was in late May. It is now August and Dave is still not back to work, he cannot work on the house much because he cannot lift over 10 pounds for another week or so.
We are concentrating on what we can do. I painted one room and have since started another.

David has been using the riding lawn mower to fight back the wilderness. He has replaced almost all the dirty painted over electrical outlets and switches with fresh white ones.
A lot of groundwork has been laid but we still need some estimates before we can move forward. I know it will be wonderful when it is done, but I pray it does not take years and years. I need a rest. Sauder Village rug camp this week is my vacation spot. Good friends who scoop you up and lighten the load have given me the strength to say a prayer for a friend who needs a healing. The rug hooking world is so special.
If you'd like to follow our progress you can see it at justneedsalittlework.com
I will be back to 100% rug hooking updates in the future. Many people have asked about how things are going. This is my way of getting the word out. All updates of a personal nature and the house updates will be posted to justneedsalittlework.com.